Every superhero has their weakness. You fire a rock of kryptonite which affects your victim in different ways, according to its colour.
Kryptonite Handbook
Radioactive
Robs victims of all their powers
Repulsion
Weird effects
Random effect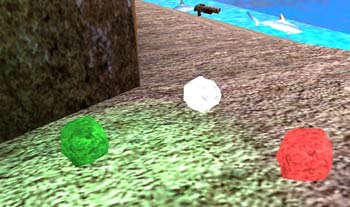 Green Kryptonite: This works similar to the passive power Radioactive, by emitting damaging radiation.
Gold kryptonite: This rock will rob superheroes of all their powers for about 5 seconds. If you are exposed to gold kryptonite you can tell by the weird metallic humming sound and also the static on your power icon display.
Blue kryptonite: This works similar to the passive power Repulsion, by creating a repulsive field. Pushing superheroes and missiles away.
Red kryptonite: This will cause some disorienting effect, such as dizziness or spots before the eyes.
White kryptonite: Random effect, from green, gold, blue or red kryptonites.
Facts and figures
Recharge time: 3.5 seconds
Radius: 150 - 250 units
Enhanced by: Superblast